Fruit Vs Candy Pokies Review
Bit terrified of the zombies that appear in Lost Vegas? Have no fear! Microgaming have reskinned the whole game. In Fruit Vs Candy, you can be scared by your '5 a day' and sugary treats. Not a bad pokie either.
How to Play Fruit Vs Candy Pokies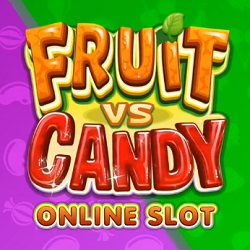 On the Fruit Vs Candy pokie, there are 5 reels and 243 paylines. This is a medium volatility machine with a RTP of 95.77%. The maximum you can win on a single spin is 2155 your initial stake. This is in line with the Lost Vegas pokie.
This is a colourful game. Just like Lost Vegas, there are two versions of the pokie. Instead of zombies and survivors, you have fruit or candy.
Each of them has their own 'special feature'. We will cover that in the next section, however. The game is gorgeous. While it is not the same visual style as Lost Vegas, it is still lovely. We feel as though this pokie is designed to be popular with the 'Facebook crowd' i.e. people who are just entering the world of pokies for the first time.
While there are two pokies available to play here, the game is kept delightfully simple. We don't think we have seen a Microgaming pokie which is drastically difficult. If you are looking to just 'kick back and relax' while playing, then this is probably the pokie for you!
Bonus Rounds & In Game Features
There are a couple of features in the Fruit Vs Candy pokie to pull you in. A few of these are triggered during the base game. As a result, you will probably be dealing with them with a great deal of regularity:
Goodie Bag: This is a feature which can only be triggered on a non-winning spin. If this happens, a goodie bag will appear on the screen and you will be given a random cash prize. This is very simple stuff.
Sugar Rush: this feature is another one that can only be triggered after a non-winning spin. With this one, every high value symbol on the reel at the time of the spin will award you with a cash prize. If you get just one scatter on the reels during the Sugar Rush bonus, then you will be taken to the free spins game.
As mentioned before, this is two games built into one. While the 'base game' features are the same, it is the Free Spins mode which differs. Each version of the game has its own mode:
Fruit mode: if you have played with rolling reels before, then you will be familiar with this. On this spin, the low value symbols in the game will be taken away. This will keep happening all the time new low value symbols appear. All low value symbols will be totted up and give you a cash prize.
Candy Mode: high value symbols can be stacked on the reels. A stacked symbol which covers a whole reel will turn that reel 'sugared'. Free spins will end when all reels are sugared.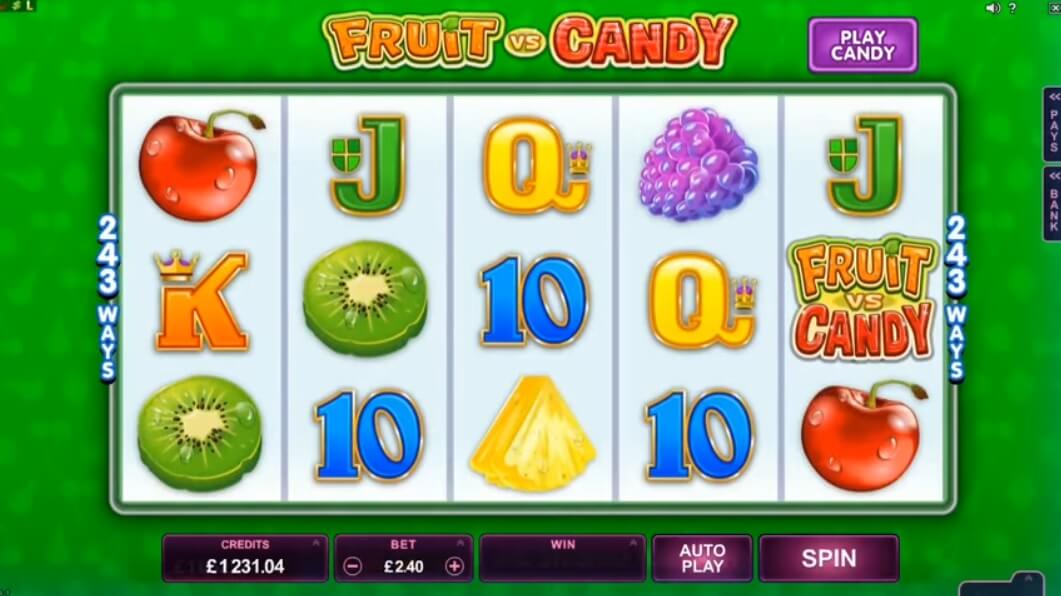 Fruit Vs Candy Mobile Pokie
Microgaming have come a long way when it comes to their mobile pokies. They haven't always been that great, often playing 'second fiddle' to NetEnt. However, we must say that Fruit Vs Candy demonstrates that Microgaming now know what they are doing, and they are doing it remarkably well too!
The game looks fabulous on any device that you play it on. The gameplay is very smooth too. We highly rate this game, and we don't even play mobile pokies all that often!
Summary – What Do We Think?
If you were interested in Lost Vegas Pokies but did not think that the theme was for you, then the Fruit Vs Candy pokie may be right up your street. It is a gorgeous game and exceedingly fun to play. While, at the time of writing, it had only just launched, we are fairly confident in saying that this will probably be one of the better machines that we play this year.
Since Fruit Vs Candy is one of the latest pokies from Microgaming, being launched in January 2017, not all casinos will have it available now. We do not want you to waste time tracking a good casino down. That is why we have put together a list of some of the better casinos out there. Why not peek at it? You can be diving into this remarkable pokie in next-to-no time at all!
Where To Play Fruit Vs. Candy Pokies