Hot as Hades Slot Review
Hot as Hades pokie will take you on a mythical journey: in a cartoon style! Hot as Hades pokie is full of extra features as you dare to go into the lair of Hades, the ancient Greek god of the underworld, on a Quest to find the Crystal Helm! The twist is: Hades is a fun and entertaining super hero, who saves the day and is not to be feared!
Hot as Hades Slot is an online video pokie by Microgaming and has fast become of one the top pokies in Australia. Nothing new however, since Microgaming put quality before quantity and have providing online casino players with excellent pokies since 2006.
How to Play Hot as Hades Pokies
Hot as Hades Pokie is set in another time and ancient land, which will take you on a ride covering the mythological stories of Zeus, Poseidon and Medusa, all combined together in one theme to include Hades himself, as well. Hot as Hades Slot is a very cheeky and entertaining slot, and Hades himself will try his best to make you laugh and will become an unlikely superhero, instead of the feared legendary underworld god he is normally portrayed as.
Hot as Hades features a good amount of extra in game features such as free spins games, multi-tiered bonus structure and many wilds, some of which are sticky!
Hot as Hades Pokie is designed with 5 reels, 3 rows and a total of 20 fixed pay lines. Hot as Hades graphics are something special. They're clear, crisp and really realistic, especially when you start seeing boiling lava, when you take a trip into Hades lair, which comes complete with fireballs of explosions to really set the scene.
On the reels, you'll see God like graphical icons, including Medusa, Poseidon, Zeus, and also Cerberus, which is Hades' three headed dog, and some standard A to 10 symbols which are common in most online pokies. There's some fun and entertaining animations that you'll see during your game play, such as Cercerus pee-peeing on the side, to Hades juggling some gems. It's just a fun touch that adds to the very charm of playing this slot.
Hot as Hades Pokie can be played from as little as $0.20 to $50 a spin, and is considered a medium variance slot, which also has around a 96% return to player ratio, which is average, if not a little higher, for all Microgaming Pokies. Set Hot as Hades Slot settings to the betting levels you prefer to play your online pokies on, and get started!
Bonus Rounds & Extra Features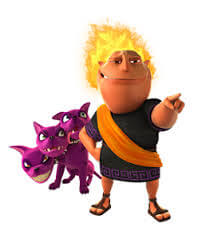 Hot as Hades Slot is chocca full of extra features, including a multi-tiered bonus game, a free spins game, wilds, sticky wilds and scatters, and the main purpose of the slot is to reach the multi-tiered bonus game called: Quest for the Crystal Helm feature.
Quest for the Crystal Helm Feature: You can play this feature when you get 3 or more scatter symbols anywhere on the reels. It's in this feature where you can 'reclaim' the Crystal Helm, which is being guarded by Hades brothers. You'll find when you start this extra feature, that there are 5 levels which you can pass, one at a time, with a single chance to do so. Here's a brief summary of what you can expect to find on each level:
Bonus Level 1: Will take you to the Pillars of Awesomeness where you can pick a pot for a choice of 4 cash prizes and a 'Win All' option.
Level 2: This is where you'll meet Medusa's gaze and be prompted to choose a pathway. There's 3 cash prizes up for grabs and also a win all option as well. Choose a path which is presented to you, and there will be either 3 cash prizes, 1 'Win All' option or an end option.
Level 3: Will lead you to Poseidon's Ocean, where you will be able to pick a shell. Here, there's 2 end the game options so be careful how you proceed.
Level 4: Will grant you access to Zeus' Stairway, where you can select a cloud. The clouds have 2 cash prizes and 2 end options so again, be careful or you'll return to the base game and no further down the path!
Level 5: Great job getting this far! If you manage to get this far, then this level is called the Chamber of the Crystal Skull where you can choose between 1 of 5 chests, all sat on top of a pile of gold. Pick one, but keep in mind that you'll also get another chance to re-pick if you didn't manage to take home to main prize, which is the Crystal Skull, on the first try. If you manage to get the Crystal Skull, then you'll take a really big coin win! The biggest win you can get whilst playing Hot as Hades Pokie is up to a maximum of 260 times your stake.
Free Spins Feature: Another really cool feature in Hot as Hades Slot is the free spins game, featuring Sticky Wilds. When we played, it did trigger more often that the Quest for the Crystal Helm feature (above), and it will randomly trigger during game play. When it does, the reels will turn into a super mode.
Here, you'll be given 5 free spins featuring Sticky Wilds for some extra fabulous hot wins! Of course, going with the notion of this fun slot, during this feature, you'll see Hades himself flying out of the reels, flying around a bit and then shooting the reels and so on, to turn some of the icons on the reels in to sticky wilds. What a hero for helping!
Hot as Hades Mobile Pokies
Hot as Hades Slot is ready and available for you to play on most mobile phones and tablets, giving you the freedom to load Hot as Hades pokie anywhere the feeling takes you!
Microgaming have done a great job in adapting this slot from regular web format, to be fully responsive for touch screen devices and mini screens, so it's easy to play on the go.
Summary - What Do We Think?
Hot as Hades Pokie is full of fun and mischievous extras, which will really keep you entertained. It's clear that Microgaming has put 100% into the thought process to create a visually stunning and fun video slot, which features some real adventurous game extras to help you win more.
Hot as Hades Slot is a perfect slot for all types of casino players, from players who like to go easy and bet from $0.20 a spin, to those who like to go a bit more 'full thrills' on the stakes with a larger $50 a spin. Hot as Hades Pokies is classed by most as a mid-variance slot, so it won't eat too much of your bank roll before you start winning some coins as well.
All in all, Hot as Hades is a new favourite pokie edition of ours that we play on a regular basis. Its fun and entertaining with plenty of hidden extras in there to keep you in the money and be entertained with all of its interactive bonus features.
Where To Play Hot as Hades Pokies