Jungle Jim Eldorado Pokies Review
If you want an 'easy to understand' game which is still fun to play, then the Jungle Jim El Dorado pokie from Microgaming may be right up your street!
How to Play Jungle Jim Eldorado Pokie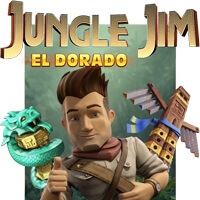 The Jungle Jim El Dorado Pokie was first released in September 2016, to quite a bit of fanfare if we recall correctly. There are 5 reels and 25 paylines in the game. The minimum bet is 25 cents. The maximum is $25. It is a medium volatility slot. The house edge is tuned for between 3-4%.
This game is all about an explorer who is deep in the heart of a jungle temple. Well, we presume that it is in a jungle temple otherwise the chap has a very unfortunate name. The style is similar to Gonzo's Quest Pokies (By Microgaming's main competitors Netent), but Jungle Jim has more of a cartoon-feel to it.
We know that not everybody is going to love the cartoon style of the game, but we did. It certainly is one of the better-designed games that Microgaming have come up with, mainly because it does not look like they have taken a half-hearted approach to everything.
When you play this pokie, you can expect it to be simple. In fact, this is where we feel that the strength of the Jungle Jim pokie is. As you will discover in the next section, there are a lot of features in the game. However, none of them are really going to overwhelm you.
In our opinion, this is a game which is very much suited to those who are just getting started in the world of pokies but do not want a game which just has you click the spin button over and over again, a rather mind-numbing process. This is going to be a good stepping stone pokie and we have recommended it to plenty of people who are looking to play for the first time.
Bonus Rounds & In Game Features
Jungle Jim Wilds: The wild in the pokie, which takes the form of the Jungle Jim El Dorado logo, is nothing wildly spectacular. It just acts as a substitute for the other symbols in the game. We are really highlighting it due to the fact that it does pop up a lot. We have managed to secure a good number of combinations like this!
Rolling Reels Feature: One of the main features in the pokie, and one that you will be encourtering a lot, is the Rolling Reels feature. Every time you win in the game, the symbols that form the winning combination will explode and disappear.
New symbols will then fall into place. This could lead to more wins on a single spin. This is not the best part, though. You see, each time you win during the rolling reels feature, your multiplier will go up:
1x multiplier on the first spin
2x on the next win
3x on the win after that
4x on the win after that
5x on the win after that.
Basically, those wins are going to stack up very quickly. This is not even the best part! If you are lucky enough to get 3 scatters and trigger your ten free spins, the rolling reels will still be in place, but the amount of money you can win will shoot up even more. This is now the order of multipliers:
3x
6x
9x
12x
15x multiplier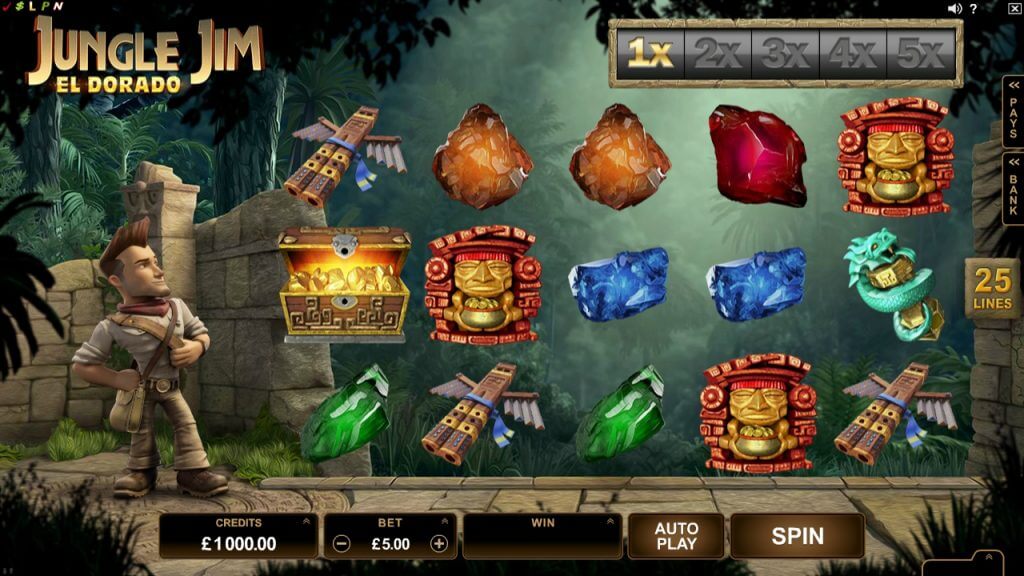 Jungle Jim El Dorado Mobile Pokie
The Jungle Jim El Dorado mobile pokie is awesome. Like, seriously. We know that Microgaming are a little bit 'hit and miss' with the mobile pokies that they create (mostly hit, to be honest), but the Jungle Jim game is the first where we have sat up and said "wow, this game is fantastic".
It looks beautiful. It runs smoothly and, If we are completely honest, this is one of our favourite mobile pokies to come out in recent years.
Summary – What Do We Think?
If you love your multipliers and want to play what is regarded as one of the 'most fun' pokies in recent years, then we suggest you check out Jungle Jim. It is a proper hoot to play!
If you want to check out Jungle Jim, and if you have managed to read this far we are positive that you do, then you will be able to head to any Microgaming website to play it.
There is a good list of some of the best new casino sites that we have put together for you. Make sure you check it out!
Where To Play Jingle Jim Eldorado Pokies