Life Of Riches Pokies Review (Microgaming)
Glitz and glamour are at the heart of the Life of Riches pokie from Microgaming. This game is all about winning big, and with a max win of $120,000, winning big is something which is certainly within the realms of possibility.
How to Play Life of Riches Pokie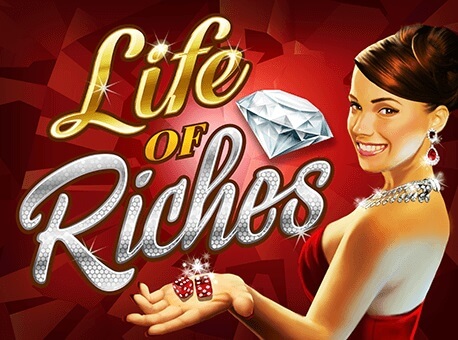 The Life of Riches pokie is one of the newest games out there. It was launched on 4th January 2017 to much fanfare. Players of this pokie will be able to enjoy 5 reels and 30 pay lines. The minimum bet is 30 cents. The maximum bet is $15. It is a medium volatility slot with a house edge of about 4%.
Microgaming is one of the many pokie vendors out there who are taking on a bit of a 'back to basics' approach when it comes to the designs of their pokies. Everything about the game looks simple. The symbols are nice and big, and they are distinct from one another. We have a feeling that this is down to the fact that they wanted the game to look great on mobile devices.
The whole theme of the game is based around a 'rich lifestyle' i.e. what you could possibly be purchasing should you win the jackpot. It is not as 'in your face' as the other games that boast the same theme (many of the pokies from NetEnt, for instance), but it is fine.
In terms of simplicity, the Life of Riches pokie is going to be simple to play. Even if you are a newcomer to the world of slots, the second you boot up this game, you are going to know what is going on. This is fantastic! Of course, experienced slot machine players are still going to be able to get something from it.
Bonus Rounds & In Game Features
There are several features in the Life of Riches pokie for you to enjoy.
Life of Riches Wilds: The one that will be probably popping up the most is the Wild. This is just the logo of the game. As with any other pokie, the wild can substitute for any other symbol in the game. When it does, it will give you a 2x multiplier. If it forms part of a winning combination in the free spins mode, it will give you a 4x multiplier.
Free Spins Game: If you get at least 3 scatters on the reels, then you will be able to enjoy the free spins mode. Here, you will get 10 free spins. Everything will be multiplied by 2x, unless that wild is involved. The best part about the free spins mode is that you will be able to achieve stacked wilds on all of the reels. If that happens, then you will be able to enjoy massive wins. The maximum win during this game mode is 6000x your initial bet!
Finally, and this is probably not going to happen all that often, you will be able to win 200x your bet if you manage to get 5 scatters on the reels. Not a massive thing, but certainly nothing you can turn your nose up at.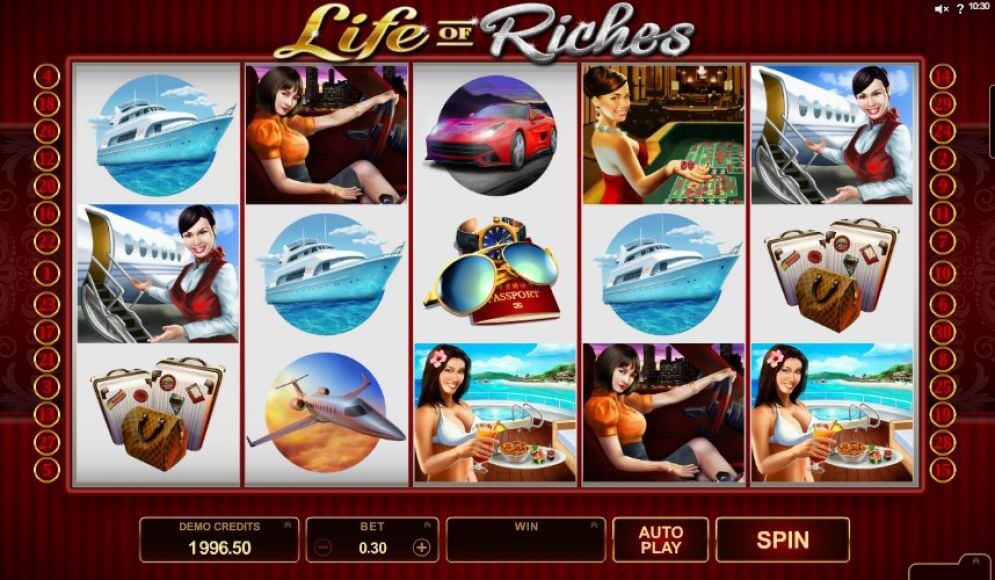 Life of Riches Mobile Pokie
Microgaming are Gods when it comes to the creation of mobile pokies. Since this is one of the newer games in their arsenal, you can expect it to be almost perfectly optimised for mobile devices.
Summary – What Do We Think?
This is a good pokie. There is not much more we can say about it, really. Sure, we would absolutely have loved for the pokie to include a couple more features, just to keep us engrossed. However, we made a promise to ourselves that we would never be critical of a game which had free spins, and we are not going to start now. After all, if a game offers free spins, then it is going to be a decent game, right?
It is, essentially, going to be free cash which is always nifty! Since you can play Life of Riches on just about any website which offers Microgaming pokies, we know that finding places to play the game is not going to necessarily be tough.
However, we also know that there are plenty of people out there who want a bit of a nudge in the right direction. They want to spend more time playing, and less time searching for casinos. This is why we have put together a list of some of the best Australian online casinos out there. Why not check it out?
Where To Play Life of Riches Pokies