Lost Vegas Pokies Review
Las Vegas is the gambling capital of the world. So, what happens when you throw a few zombies in there, just to spice things up a little bit more? Well, you end up with something akin to the Lost Vegas pokie from Microgaming, one of the better pokies we have played this year.
How to Play Lost Vegas Pokies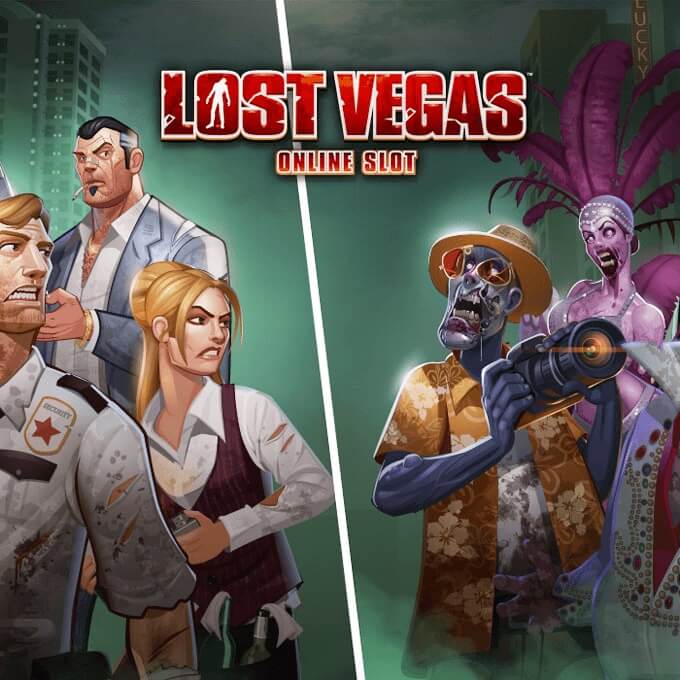 The Lost Vegas pokie offers 5 reels and 243 ways in which you can win. The minimum bet per spin is 30 cents. The maximum bet is $45.
Basically, every single 'betting level' is going to be covered here. There are some pretty nifty prizes on offer too, even if you are betting the minimum amount on the Lost Vegas pokie.
This game takes place in the midst of a zombie invasion of Las Vegas. There are actually two versions to this slot machine, which we will cover in a bit more depth shortly. You have the 'survivor' mode and the 'zombie' mode.
Both of them have their own 'feel' to them, and both are incredibly detailed. We know that there are a lot of pokies around at the moment which boast the zombie theme, but this is one of the better ones, if not the best, that we have come across.
For the most part, this game is going to be simple to play. However, we did not really expect anything less from a Microgaming game.
This is a company which has always worked hard to ensure that their games are accessible to all. When you play this pokie, all 243 ways in which you can win will be permanently activated.
This means that you will not need to worry about specific bet lines. The main decision that you will need to make is whether to play Zombies or Survivors mode, each of which offers slightly different features.
Bonus Rounds & In Game Features
As mentioned previously, there are two versions of the game. You have the Zombies mode and the Survivor Mode. For the most part, they both play exactly the same. The only real difference is that the Free Spins feature that they offer plays out in a slightly different way:
In the 'survivor' game: The free spins feature is triggered when you get 3 or more hazard symbols on the reels. The free spins feature is known as the 'Stash'. All low paying symbols will be removed from the reels during this mode. A cash prize will then be added to your stash. This pays out at the end of your free spins.
In the 'zombie' game: the scatter symbols are the same. However, in the free spins mode, you play in 'infection' mode. Any reel which boasts a wild will become infected. When a reel becomes infected, the reel becomes fully wild. The free spins will continue until either all five reels are fully wild or you have used up fifty free spins. We are going to be honest, this is our favourite free spins pokie around.
In addition to this, there are two features which occur only during the base game. These are triggered randomly when you lose a spin:
Fist of Cash: if you lose a spin, there is a chance that you will be offered a random cash prize.
Blackout Bonus: high value symbols on the reels are revealed. You will be given a random cash prize. One scatter has the ability to trigger the free spins game.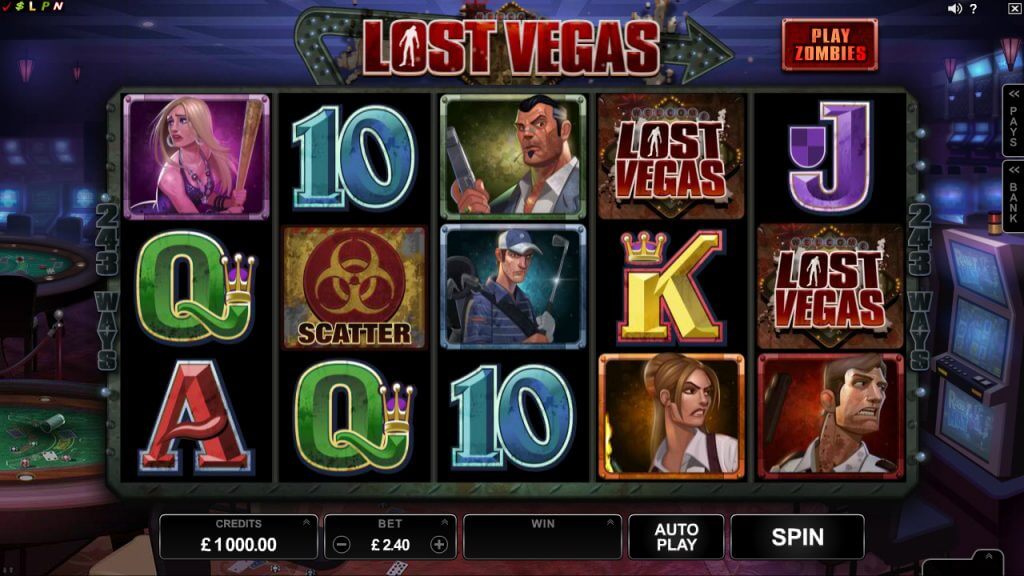 Lost Vegas Mobile Pokie
If you love the Lost Vegas pokie, then you are going to love the Lost Vegas mobile pokie. While it is not the best mobile pokie we have ever seen, it is certainly up there. This is a game which has, clearly, been designed from the outset to look good on mobile devices. This means that you will be able to enjoy gorgeous colours that pop out, and some of the smoothest gameplay in the world!
Summary – What Do We Think?
If you are after an aesthetically-pleasing pokie which still offers a lot in terms of gameplay, then you will want to check out the Lost Vegas pokie from Microgaming.
It is one of the best around right now, and we absolutely love the free spins mode that it offers. Remember, always play in Zombie mode for the biggest payouts!
You can check out the Lost Vegas pokie on any website which offers Microgaming pokies. If you are struggling, you will find plenty of suggestions below and also on our top casino sites page!
Where To Play Lost Vegas Pokies