Mega Moolah Pokies Review
Mega Moolah is one of the originals of online progressive jackpots, launched by Microgaming, Mega Moolah has been turning people dreams into realities over night with it's Multi Million $ Jackpot! Will you be the next Millionaire?
How to Play Mega Moolah Slot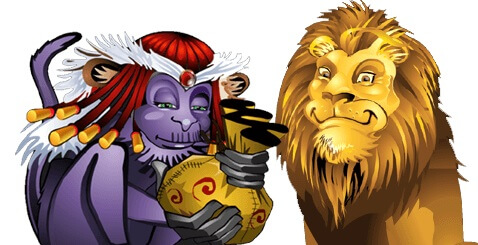 Mega Moolah Pokie by Microgaming is probably one of the most well-known progressive jackpot online pokies.
Mega Moolah Pokies is classic, fun to play and offers a huge progressive jackpot fortune, which would put any lottery or scratchie win to shame! Featuring classic graphics and an apt soundtrack, it's the jackpot that will catch your eye in this easy to play online pokie.
Mega Moolah is safari and jungle themed and offers some cute animations on the reels, in the form of Giraffes, Monkeys and Zebras. Mega Moolah features a backdrop of what could be the lazy African plains and it all fits together perfectly with the soundtrack which literally puts you right there, amongst it all.
Mega Moolah is an online pokies which is designed with 25 pay lines, 5 reels and three rows. Load the pokie and choose the betting levels which you're most comfortable playing with, so you are well within your betting level comfort zones, and can enjoy maximum time playing Mega Moolah.
The coin betting size ranges from $0.01 - $0.05, with the minimum bet being $0.25 and the maximum being $6.25. The maximum bet is interesting, because it's quite a low bet in comparison to some other popular online pokies, but since you are looking for the ultimate online jackpot, thrill seekers may want to include that in their decision making, that before jumping to the conclusion that the maximum bet is too small for them.
Mega Moolah Progressive Pokie offers not one, but 4 progressive jackpots of different sizes, which are called: Mega, Major, Minor and Mini. The Mega Jackpot is the one you'll want to reach, as that's the pooled jackpot ('pooled' means that the jackpot is grown by all of the Microgaming casinos which offer Mega Moolah, each contributing to the jackpot from every player betting on it – which is how it grows to be so large!)
Bonus Rounds & In Game Features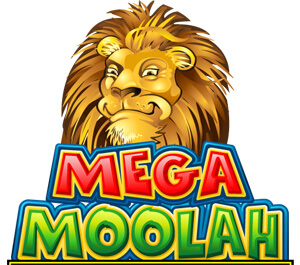 Mega Moolah wasn't designed for its modern 'wow' factor graphics, as it was first launched in 2008. Nor is is famed for its impressive state of the art in game features. But, it does offer some thrilling extras which will help propel you into the land of online jackpots. Mega Moolah Jackpot Slot offers extras in the form of Wilds, a Free Spins game and of course the big whammy jackpot which is usually several million Aussie dollars. The Mega Moolah main jackpot is what this pokies all boils down to.
Wild Symbol: The wild symbol is shown as the wild Lion symbol, and it substitutes all symbols except for the Scatter Monkey.
Mega Moolah Free Spins: To activate this round, all you need to do is get 3 or more of the wise fortune telling monkeys (red and purple icons) and you'll activate 15 free spins, during which, all of your wins will be tripled. If you don't win the jackpot, then the free spins will make sure you top up your bank roll quite nicely, so definitely a feature that we like to see pop up.
How To Win the Mega Moolah Jackpot: Well, there's no rule book for this and you really have to have a little luck on your side, but having said that you have to play and play some more, to get a chance at winning the Mega Moolah Online Jackpot. Duuh, Ok, we said it and we know its obvious, but that's it really. You need to bet big and have some faith in waiting and getting that all important bonus wheel to pop up, as the bonus wheel is where you'll have a chance to win and win the jackpot. It can pop up at any time!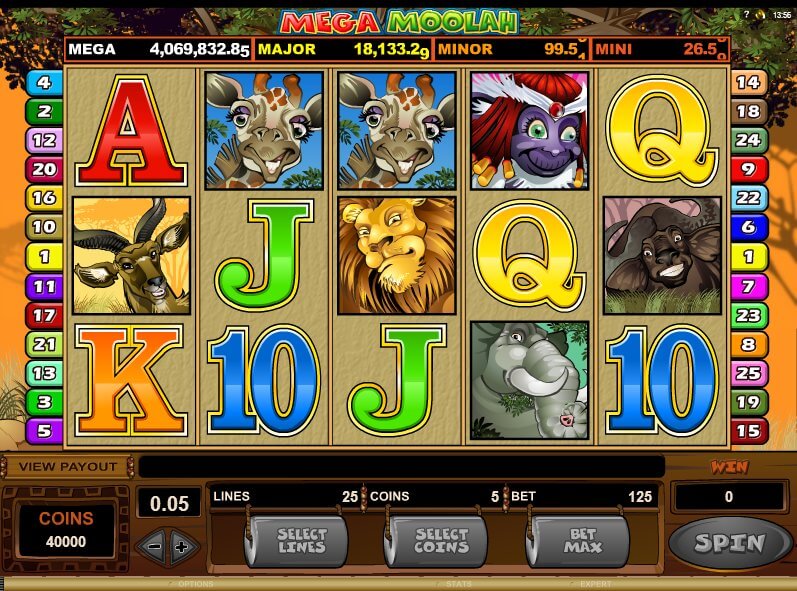 Mega Moolah Mobile Pokies
Mega Moolah Jackpot Pokie can be enjoyed any time and anywhere on most mobile devices and tablets. The mobile pokies edition of Mega Moolah is just as good as the main edition, but of course the main perks of playing on mobile phones and tablets is the freedom and flexibility that it gives you.
Mega Moolah Mobile pokies features all the same cheeky characters, extra features and the one thing we've all got our eyes on: The Mega Moolah Jackpot!
Summary: Mega Moolah Review
Mega Moolah Jackpot Pokies is a very simple pokies to play - and that saying that is quite an understatement. But.. don't worry, as that's actually the beauty of it, simple, yet effective. It's a classic video slot machine, which is timeless and not too confusing or distracting from the main objective: to trigger the multi million dollar jackpot!
Mega Moolah is an all-time favourite Progressive Jackpot slot of ours, and that's why we have to give it 5 out of 5 stars. Mega Moolah delivers everything you want from a progressive pokies, good graphics, low volatility and a large jackpot.
Where to Play Mega Moolah Jackpot