Tarzan Pokies Review
Tarzan is the undisputed 'King of the Jungle'. It used to be the lion, but then someone worked out Lions do not actually live in the jungle, so the title was snatched away. The Tarzan pokie displays just how much of a king Tarzan is. Expect prizes galore!
How to Play Tarzan Pokies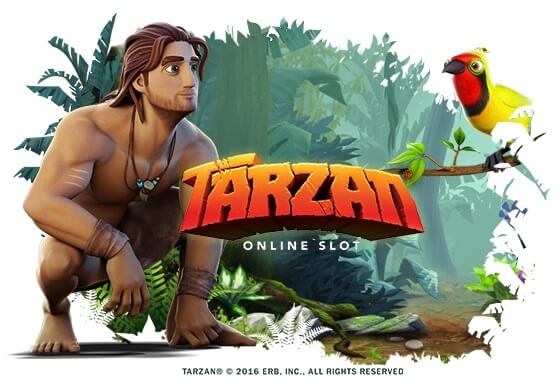 The Tarzan pokies was first released in December 2015. It is a 5 reel, 40 payline pokie. It has a house edge of somewhere between 3% and 4%. It is a medium volatility slot machine. The minimum that you will be able to stump up on this game (assuming you are playing all possible win lines) will be 40 cents. The maximum is $40.
This is probably one of the most graphically-intensive pokies that Microgaming have ever produced. This does cause a few problems from time to time on the slowest of computers, but if you have anything that is built after 2008, then this should not be that much of a problem. The game does look great, though.
The images are detailed and the animations, when you are on a newer computer, are smooth. We have one major gripe, though. You know that Tarzan yell thing that he does?
Yes? That annoying one? Get used to it. He screams it every time you spin the reels here. It is very annoying. Thankfully, somebody invented 'off switches' for speakers, so it is not going to be a major issue, just a bit more effort.
This is a Microgaming pokie. You should expect there to be a few features here to keep you interested. However, there will not be so many features that you are going to be overwhelmed while you are playing the game. There is just enough to keep both experienced players and new players happy.
Bonus Rounds & In Game Features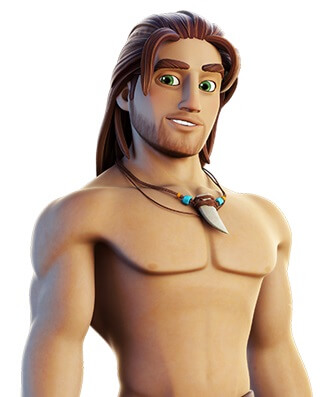 The logo for the pokies machine is your wild. As with other online pokies, it will act as a replacement for all other symbols on the reels.
The only one that it does not act as a replacement for is the scatter. The major benefit of this wild is that it can be stacked.
This means that if it appears, there is a chance that it may take up multiple locations on the reel, which is always good.
To trigger the bonus game, you will need to get three or more scatters on the reels. This is the 'bonus' symbol. One of the following four features will be triggered when that happens:
12 free spins: you will get cascading wins which can continue to award you every time you win something on the free spins. Wilds are randomly added too.
Pick-A-Potamus: there are 12 hippos on the screen. Choose one to win a cash prize. You can keep choosing them until you find the 'dud' one. Then the game ends.
Cash prizes: random cash prize. Nothing thrilling, but cash is cash.
Jackpot Prize: You can win anything from 200x to 1000x your initial bet. It will all be dependent on the number of scatters you had to trigger this feature.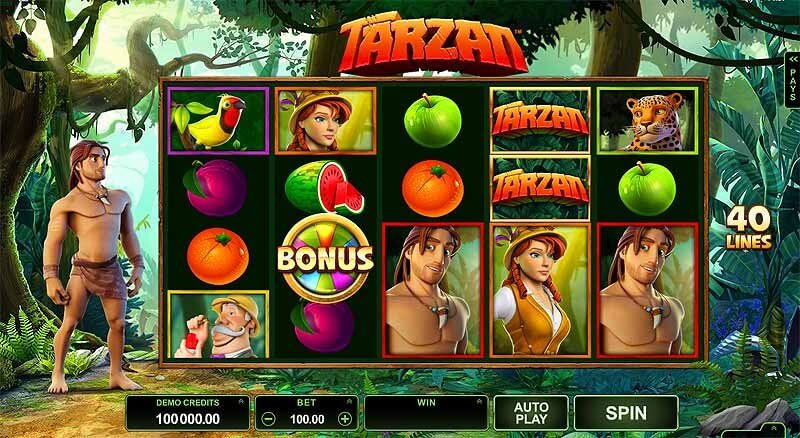 Tarzan Mobile Pokies
There is a Tarzan mobile pokie and yes, it does look great. However, you do need to realise that it is only going to function well if you have a later smart device.
That is not to say that it is not going to look good on something a bit older. It does. However, there may be a couple of seconds of delay between animations and this can be a small irritant after a while, particularly if you have been playing some of the other mobile pokies out there.
However, we do still urge you to check it out. It is a good playing experience for the most part. We are sure you will be able to enjoy it, even if there is a minor delay every so often.
Summary – What Do We Think?
All in all, we do enjoy playing the Tarzan pokie. It does look good. However, as we have already mentioned, it does have the major downside of being a bit slow on some devices. However, if you can overcome that, the game is enjoyable.
If you want to check out the Tarzan pokies, and we are sure you do, then all you need to do is head to one of the many Microgaming online casinos out there.
If you are a little stuck when it comes to ideas of where to play, then you will be pleased to know that we have put together a good selection of some of the best pokie sites around. Make sure you check them out below!
Where To Play Tarzan Pokies