Space Invaders Pokies Review
For many people that lived in the arcade during the 70s, one game that got a lot of play time back then was Space Invaders. This game boasted fabulous graphics, awesome gameplay, and a great way to spend your cash. The Space Invaders pokie from Playtech offers the same.
How to play Space Invaders Pokie
There are 5 reels and 10 paylines on the Space Invaders pokie. The minimum bet per spin is 10 cents. The maximum is $100. There is no way to change the lines that you are betting on here, so whenever you spin, you will always be playing for ten possible win lines.
When it comes to theming, Playtech have knocked this baby out of the park. Now, obviously, Playtech could not create a pokie that played like the Space Invaders game. It would not really work. They could, however, create a game that sort of looked like it. They didn't.
They created a game that 'really' looked like it. The arcade cabinet that the pokie is set in is perfectly replicated. It will bring back memories of playing down at the arcade. The graphics are very Space Invaders-style too. Combine this with the 8-bit soundtrack, and this game is the 'bomb'.
This is a game which is very much designed for the masses. This should not come as a great surprise, really. The original Space Invaders game was too. There are a couple of features that can be found on this pokie. Both of them are 'passive' features i.e. you aren't going to have to do anything.
They just happen and you have no control over what happens when they occur. Don't worry, it is exciting! Why? Because these features are actually based around the Space Invaders theme, which is great. Far too many branded pokies are just slapping a skin on existing technology, and that isn't fun at all.
Bonus Rounds & In Game Features
As we mentioned previously, both of the features that you will find in this pokie will occur randomly. There is nothing that you can do which will force them to be triggered. There is just a small chance that they will occur on your spin:
Flying UFO Feature: Feature one involves the UFO which is flying above the reels. When the reels stop, if this UFO is in line with the cannon at the bottom, you will get a free re-spin. On this re-spin, you will be given up to 9 added wilds on the reels. This will lead to massive wins if you are able to score some combinations!
Cannon Feature: The second feature also involves the cannon. If the cannon stops under either the 2nd or the 4th reel, there is a small chance that it will fire a shot. When this happens, the low value symbols on the reels will be blown away and they will become wild symbols. If you form a winning combination using these wild symbols, a multiplier of 2x will be applied.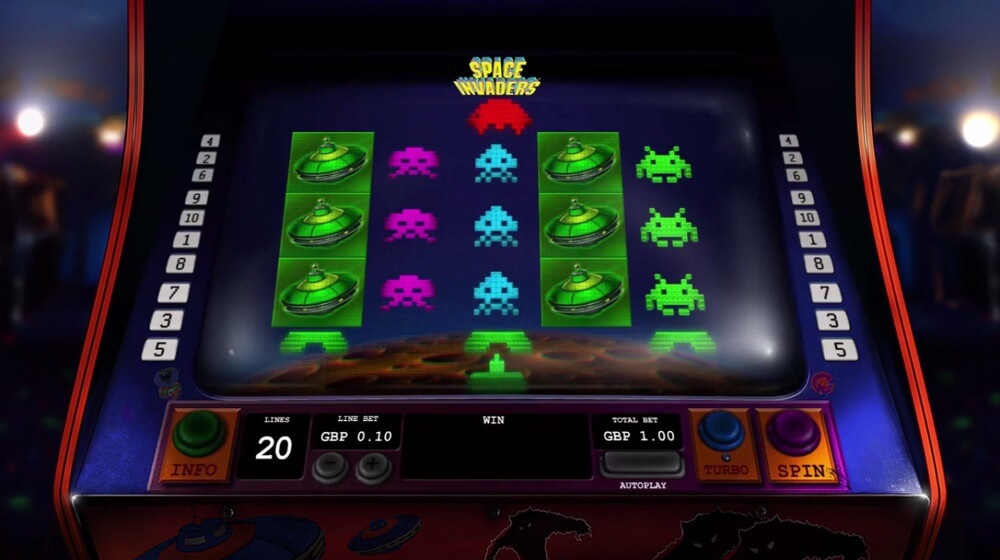 Space Invaders Mobile Pokie
If you thought the desktop version of the game was good, wait until you check out the Space Invaders mobile pokie. It is even better. We were initially worried that the game would look small on smartphones and the like.
This is, in part, down to the fact that the game has a rather large arcade cabinet surrounding the action. That isn't the case. It looks remarkable. This is now one of our favourite pokies to play 'on the go', and we are sure that it will quickly become one of yours too!
Summary – What Do We Think?
We love it. That is what we think. We have been sorely disappointed with pokies in recent years, particularly those who are based on an existing intellectual property. We can't find a single fault in this baby. Playtech have managed to perfectly replicate the Space Invaders game in an online pokies format.
Well, as much as they can do. If we had one complaint, we probably would have loved for the features that you find in the game to be a bit more interactive. However, that is a minor complaint, because even though the features that you find in the Space Invaders pokie are very 'passive', they are still very fun.
We know that you want to play the Space Invaders pokie. It is that awesome. If you are looking for a Playtech casino site where you will be able to have a spin or two, then we have plenty of suggestions on below. We recommend you have a browse through them. We hand-picked these sites for the quality of service they provide!
Where To Play Space Invaders Pokies