100% up to $300 Bonus
100 Free Spins
Visit
Loki Online Casino Review
Loki Casino has taken the unique approach of having a leprechaun and a lucky clover as the mascot for their website. Well, we say unique. We mean that it is a terribly tired idea. This is, without a doubt, one of the most-used mascots for online casinos. Thankfully, if you look beyond their mascot, Loki Casino is surprisingly unique though we were surprised it didn't have a more "Viking" theme with a name like "Loki".
First Impressions of Loki Casino
Let's put aside the fact that a leprechaun is the main mascot for their website here. Let's put aside the fact that they are called Loki Casino and didn't bother to use the Norse God; Loki as their mascot. Put those to one side, and Loki Casino looks good.
The layout for the casino is tremendously clean. It has a pop of colour, but you never feel overwhelmed. This is what we love. Far too many online casinos make the mistake of feeding us advert after advert, and Loki has not gone down that route. We shall be ever thankful to them for that.
One thing that did surprise us is that you have access to all your online casino games on the main page. You don't need to head anywhere else. You have your categories, a search bar, and a list of featured games the second you look at the website. We love this. We hate fumbling around new online casinos.
The mobile casino is even better, but this is not something that surprised us, to be honest. Most online casinos nowadays are built to work on mobile devices. This where the bulk of the business can be had. No, not all of the games are going to be able to work on your mobile device (blame the game developers for this, not Loki Casino), but the majority of them should be fine. The site loads up fast, even on older mobile devices.
Loki Casino Bonus Codes
As always, we are not going to go into depth on the casino bonuses offered by Loki Casino as they are subject to change. However, we can assure you that their bonuses are going to be ideal for those gambling in either bitcoin or their local currency. Loki Casino does not discriminate here. See below for the most current Loki Casino bonus, and don't forget there are plenty of extra promotions happening on a near-daily basis too!
Game Selection: Pokies, Casino Games & Live Games
We do want to point out at this stage that Loki Casino is a joint 'normal currency' and bitcoin casino. You can play in either currency. However, because bitcoin is a relatively new way to gamble, not every game will have been programmed with this in mind. This means that not all of the games on Loki Casino can be played if you are gambling using bitcoin.
The 'best' games are listed under their bitcoin heading, but if you want to play something weird and unique, you won't be able to play that if you are only gambling using bitcoin. However, this is not just a problem with Loki Casino. It is a problem with all online casinos. Loki Casino has one of the biggest selections of bitcoin games we have seen anyway.
If you are gambling in your local currency, then you have an even bigger range of games available to you. Hundreds of them. Most of this will be your slots. You have some big-name companies here, including Big Time Gaming. Loki certainly have not cut any corners when it comes to building up their game base. On top of this, you have tons of table games, live dealer games, and a whole lot more than that. If Loki Casino is the only place you ever gamble, we are positive that you will never get bored.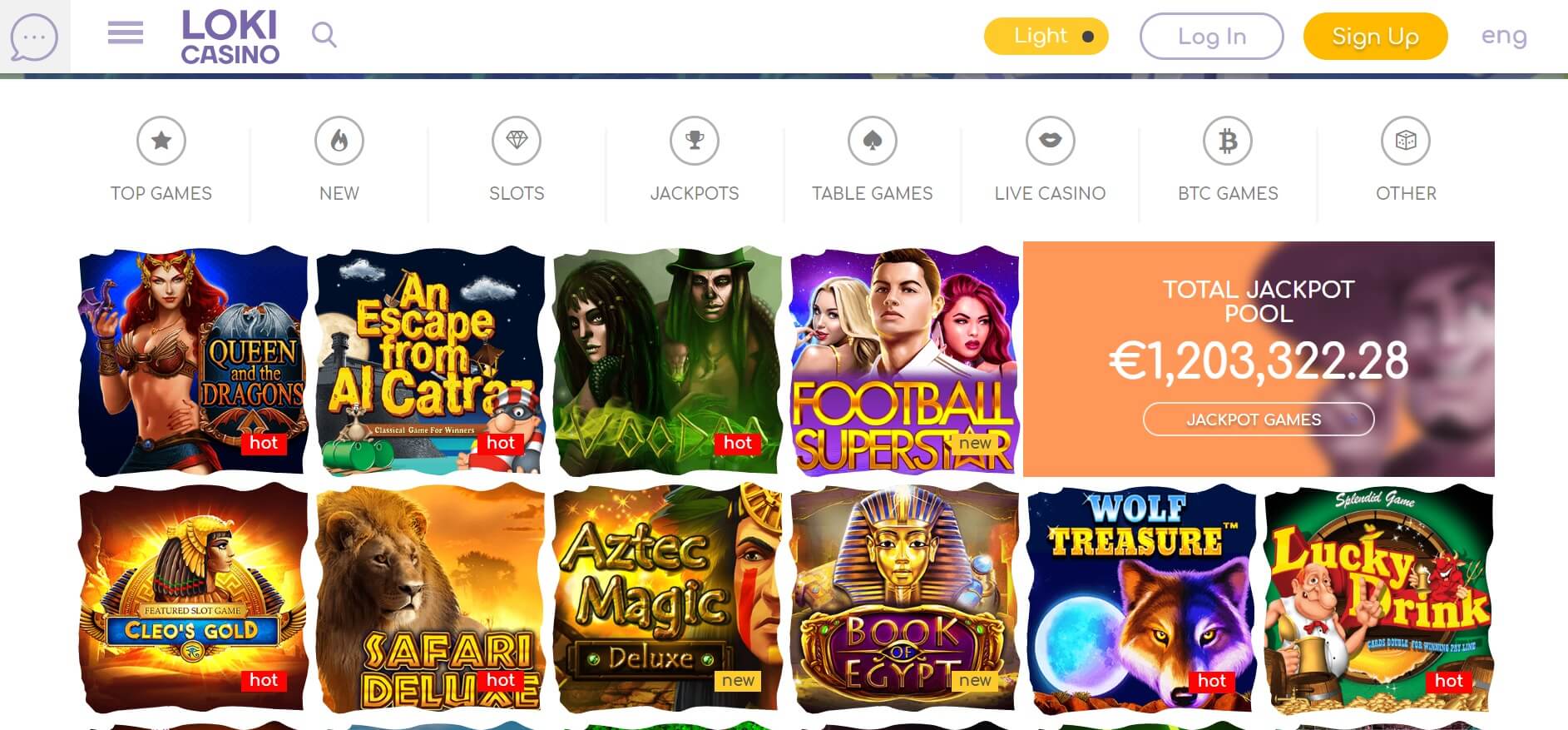 Deposit & Withdrawal Options
Loki Casino primarily markets itself as a bitcoin casino. This means that the bulk of people who are playing there will be depositing and withdrawing in bitcoin. The whole system that they have devised makes this very fast. In fact, they have one of the quickest bitcoin systems in the online casino industry. If you are gambling in your local currency, then you can deposit using your bank account, debit card, credit card, and a whole host of other options. Withdrawals are not quite as fast as if you are using bitcoin, but it is 'fast enough'.
Loki Casino Review Summary
Loki Casino is one of our favourite bitcoin casinos to play at. It has a tremendous game selection, and we simply love the fact that you can deposit in more currencies than just Bitcoin. It does make the play experience that much better. It is absolutely worth your time playing there. Trust us on that one.