300% Welcome Bonus
Use Code: BONZAPLAY
Visit
Two Up Casino Review
If you can overlook the fact that Two Up Casino is greener than an Irish Pub on St. Patrick's Day, you are going to be enjoying one of the best online casinos in Australia at the moment.
This is important because ever since our government decided to be a bit more restrictive in who can operate, we have been sorely lacking in amazing online casinos where we could spend our night relaxing, maybe winning a prawn, heeler, or if you are lucky a few lobsters. Let's look, shall we?
TwoUp Casino Introduction
It is decent. We were initially miffed by the rampant use of green, but we are positive that you can overlook this. One of our biggest concerns with many of the online casinos that have popped up as of late is that they are just too complicated. They make it difficult to find the game that you want and the advertising is just so overboard that you are going to think that you are browsing Facebook or something. Thankfully,
Two Up Casino does not seem to go down this route. It is nice and simple and the only branding comes from a banner at the top with a couple of leprechauns wearing clothing which maybe a touch too revealing. If you want to find a specific game, then you have a cool little search box available. There are also several gaming categories that you can jump into, but more on those in a short while.
TwoUp Casino Bonus & Promo Codes
This is where Two Up Casino really put themselves on the map; their generous welcome bonus. The welcome offer for new players is a 300% match bonus. Just make sure you use the Australian Two-Up Bonus code BONZAPLAY!
Casinos
Bonus
Visit

Two Up Casino

300% Welcome Bonus

Use Code: BONZAPLAY

✔ Fab Theme & Design ✔ Cracking Welcome Bonus ✔ Popular Pokies

Read Review
Visit
18+ | Gambling Help Online®
Game Selection: Pokies, Jackpots & Live Casino Games
The problem with living in Australia (other than the fact that every animal seems to have the ability to poison us), is the fact that most game vendors don't want to offer games here (thanks to strict legislation). This means that you are never going to be able to find a massive selection of games. You won't on Two Up Casino. Not if you compare the site to European sites. That being said…
Two Up Casino seems to have a larger selection than most other online casinos operating in Australia at the moment, particularly when it comes to pokies. There are hundreds of them available with some decent global progressives too. The one complaint we do have (and this is not even a big complaint) is that most of the games are either local or global progressives, which can have a high volatility. You will find some 'basic' slots but these seem to be in the minority.
It seems that Two Up Casino is popular among slot players. There are several local progressive jackpots on the site. Normally, these have jackpots that are so abysmal that they just are not worth trying. All the local progressives on Two-Up have at least $1,000 at the moment. Maybe not as high as local progressives on major European sites, but very high for Australia.
It does not just end at the pokies. Oh no. You have card games, video poker, and a few speciality games thrown in for good measure. Long story short; you won't get bored. It seems like they add games regularly too which means that you will always find something. Something unique too.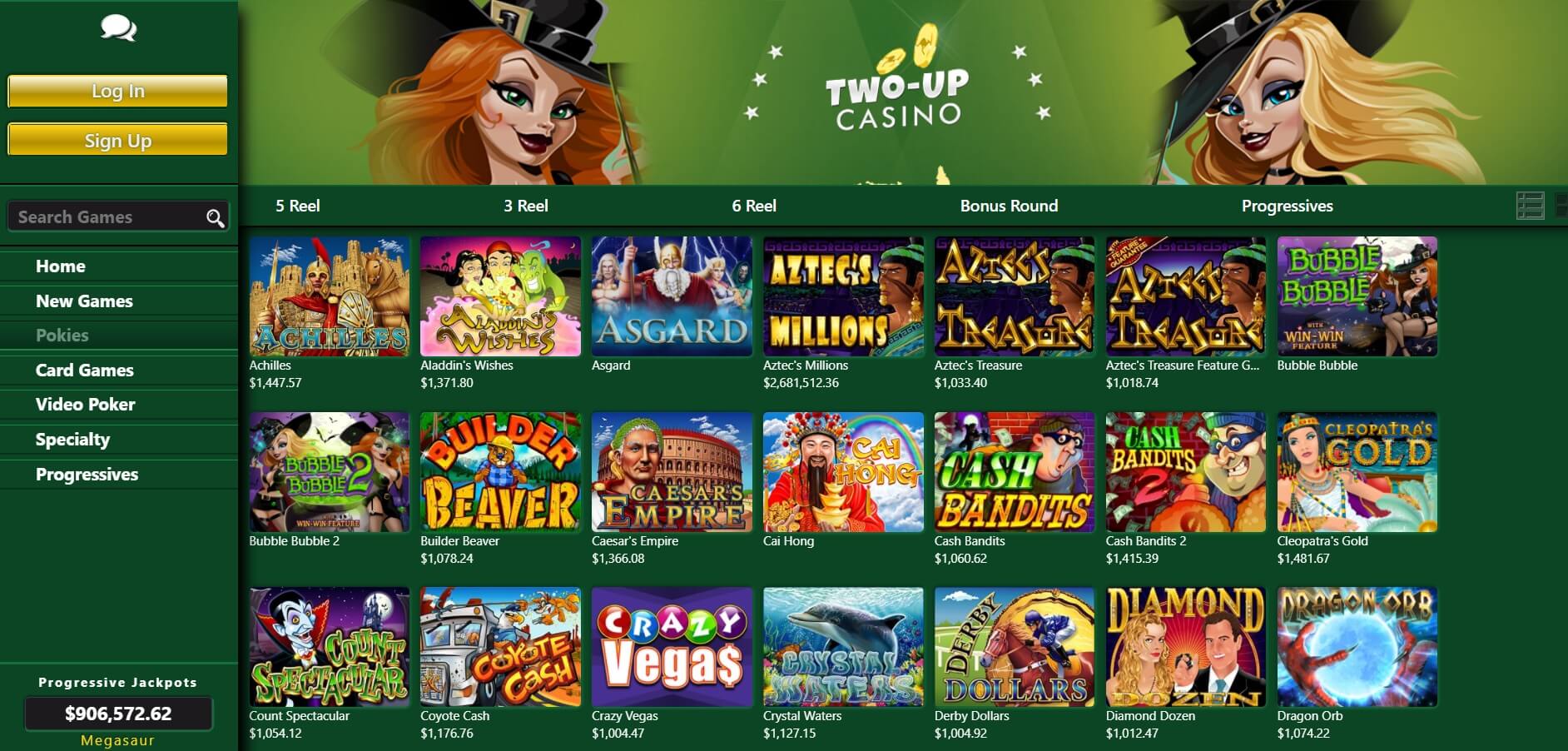 The Two-Up Mobile Site
There is a mobile version of Two Up Casino available and it is not too different from the main site. This means that it is easy to browse. The only difference is that everything has been shrunken down into a highly portable format. Even though some of the games are a bit unique to what you may find elsewhere (this is probably the only place in the world you can play a game based around Ritchie Valen, an American songwriter), the company have made sure that everything works on mobile devices very well.
What Else You Need To Know
Customer support is amazing. There is a live chat system in place and they seem to be incredibly responsive when you boot it up…even during peak hours. There are plenty of withdrawal and deposit options available. From what we can tell, they tend to be a lot faster than most Australian sites too. This means the ability to get your hands on your money quicker.
Two Up Casino Review Summary
Head to Two Up Casino today if you wish to jump in and enjoy some of the best gambling in this hemisphere (we are assuming, we can't say we have gambled that much outside of Australia). Remember; this is a new site, so sign up now and you can get in on that action 'on the ground floor'.
Casinos
Bonus
Visit

Two Up Casino

300% Welcome Bonus

Use Code: BONZAPLAY

✔ Fab Theme & Design ✔ Cracking Welcome Bonus ✔ Popular Pokies

Read Review
Visit
18+ | Gambling Help Online®