The Dalai Panda Pokies Review
The Dalai Panda pokie is an oriental-themed slot from iSoftBet. How does it stack up against the competition? We decided to take a look below in our full review. Find out how to play, recommended playing methods, the games RTP% and also which Aussie casino sites are worth playing it at.
How to Play The Dalai Panda Pokies
The Dalai Panda is a simplistic pokie. At times, it feels like it is almost a 'filler slot'. That being said, it is well-designed. It is evident that the team at iSoftBet put a lot of effort into stylising this game. As you know; a lot of games have been released in a similar vein as of late (the Oriental-theme is huge), and it is nice that this game differentiates itself somewhat.
This is one of a few games that we feel is themed well. It has fantastic music (one that you won't need to mute your headphones for), and every single symbol in this game has its own design, which really helps to add to the pizzazz of the game. Honestly, playing The Dalai Panda is not all that difficult. ISoftBet is not exactly known for making convoluted games. Everything they create is nice and simple. Just choose the amount that you want to bet on a spin and hit that button. It is mindless fun, and you have a decent chance of making some cash from it. Just remember that you need to be in it for the long haul.
In-Game Features
The Dalai Panda isn't exactly overrun with features, but we didn't expect it to. What the game has to offer is good, though.  This game is 'unique' in that it runs two separate reels. You can win on either of them. On occasion (and it is a very rare occasion), the game may combine the reels and offer you more chances to win.
You can also enjoy up to 50 free spins on this game, although the free spins are ridiculously difficult to obtain. You need to collect at least three of the 'free spins' symbols to trigger this bonus round. However, in our experience, if you are lucky enough to get free spins, you will be able to make a sizeable portion of cash, particularly if the random feature triggers during it.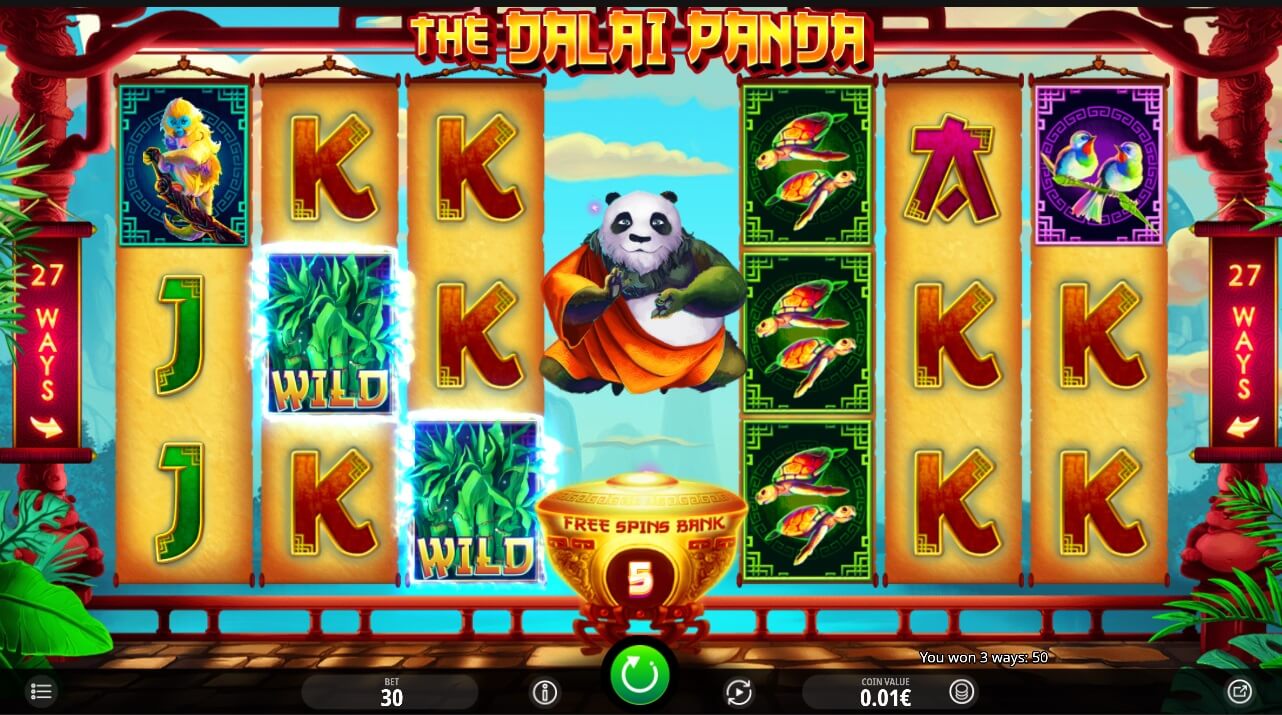 RTP % & Variance
The RTP of Dalai Panda is at 95.81%, which is somewhat on the low side of things, at least if you compare it to some of the other modern pokies. Thankfully, the variance on the game is bordering on low to medium variance. It doesn't pay out that frequently, but you should not make a whopping loss if you have a sizeable bankroll at your disposal. You probably will get decently lucky a few times too.
Recommended Playing Strategies
The lower RTP means that if you really want to make headway with this game, you are probably going to want to keep your bets closer to the minimum side of things. If you don't, then you run the risk of blowing through your bankroll rather quickly. The lower number of features available on The Dalai Panda means that you can't really do much other than cross your fingers and hope that you are going to get a win or two. If that panda gives you the random feature, then you are likely to win a couple of bucks. However, don't rely on it. It doesn't pop up often enough for you to target it. Do not assume it is coming on that 'next spin'. If the game isn't paying out for you, then step away for a while. Come back to it later on.
The Dalai Panda Mobile Pokies
iSoftBet doesn't really have the same budgets available to them as some of the largest software developers in the world, but they have done pretty well with the mobile version of The Dalai Panda. It works well on almost all mobile devices (assuming you have a smartphone), and there is no additional software to download. The only issue is that if you want to get the most out of this game, you are probably going to want to view it in landscape mode.
Summary - What Do We Think?
The Dalai Panda pokie is probably not the greatest slot you will ever play, but there is something that is ever so relaxing about loading up this game. The sweet music, and the fact that you don't really need to focus on playing. You can just mindlessly spin and wait for that cash to roll in. It is absolutely worth playing. Just remember that the low RTP means that you probably are going to want to keep an eye on your bankroll while you are playing.
Where To Play The Dalai Panda Pokies