Manhattan Goes Wild Pokies Review
NoLimit City is not one of the largest pokies developers in the world, but it seems that almost everything they touch turns to gold. Manhattan Goes Wild is no exception to this rule.
How to Play Manhattan Goes Wild Pokies
Considering NoLimit City doesn't have the budget that some of the 'big boys' have in the world of online pokies; you will be surprised at just how well-designed Manhattan Goes Wild pokies actually looks.
The game boasts an art deco feel. We read a few comments about this game before we wrote this review. A lot of people say that Manhattan Goes Wild has an almost Great Gatsby feel to it. You know what? This is something that we can agree with. The design looks like it has been whipped right out of the early 20th Century. It is suave. It is sophisticated. This is a look that you would expect from some of the bigger pokies designers out there. It just looks that good.
You can tell a lot of effort has gone into the actual gameplay design too. Sure, random features and free spins are not that 'unique', but the way they work In Manhattan Goes Wild ensures that they are very thematic.
Getting started on the pokies isn't that difficult. The minimum bet is 10 cents, with the maximum at $10. The maximum bet is somewhat on the lower side compared to most other online pokies but, let's be honest, most of you are probably not gambling beyond a dollar or two per spin. It is very, very rare that somebody is going to go up to $10.
Whatever bet you place; you will be betting on all 243 pay lines. So, once your bet is in place, it is just a case of hitting that spin button and hoping for the best.
In-Game Features
You have a few different features packed into Manhattan Goes Wild. The first two features are randomly triggered. In essence, they are the same feature…just done twice. There are two characters in this game (Bugsy and Betty). The game will randomly trigger (not very often) a feature that will turn all of the symbols related to one of these characters completely wild. It is very random, so don't expect it to trigger that often. When it does, you should be able to score yourself a few wins, however.
If you get both Bugsy and Betty fully stacked on the reels at the same time, they will be locked into place. All symbols featuring these two characters will become wild. You will also get a free respin. Obviously, this feature popping up is incredibly rare, but when it does…boy, are you going to be making a bit of cash.
There is also a free spins feature. This is exceedingly rare, and you could have hundreds of spins and never see it. Random symbols become wild here when you fill up a little 'collection jar' and there are free respins galore, so you never know just how many you are going to be getting when you dive into the feature.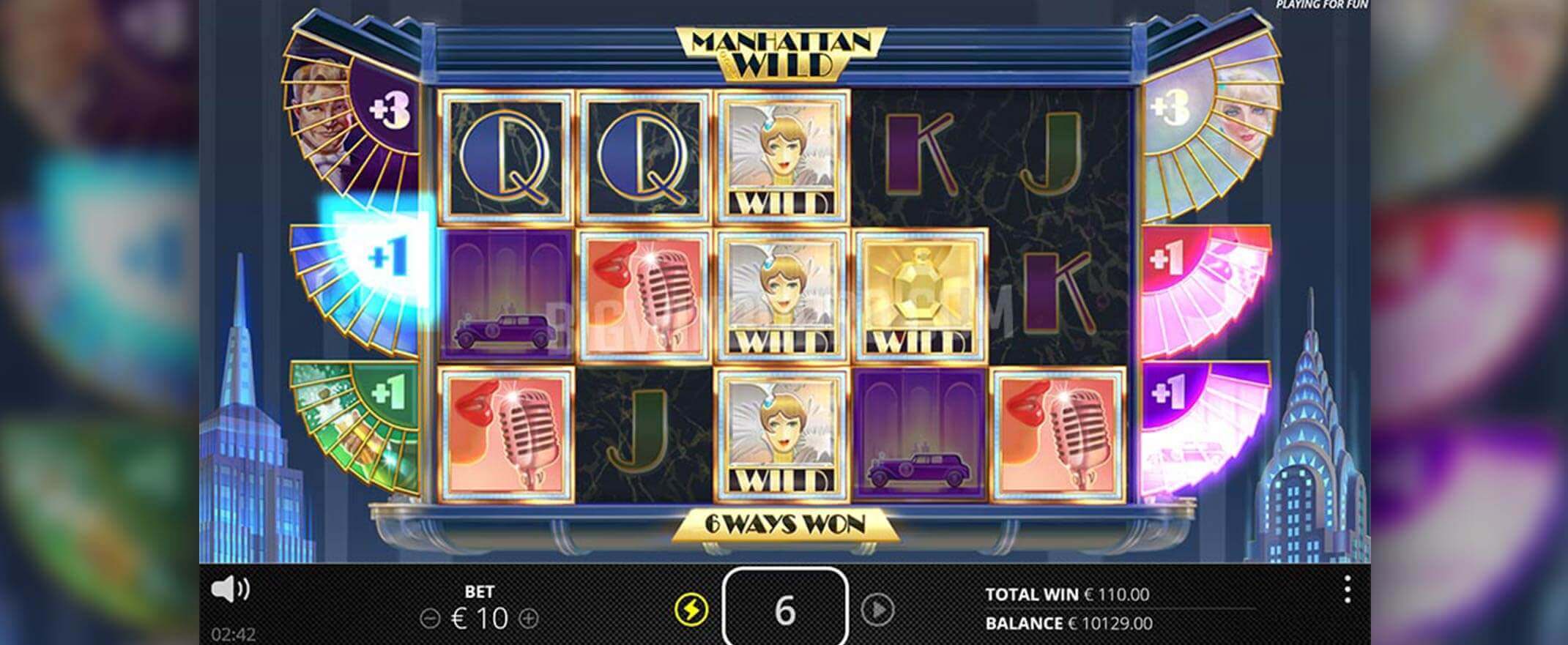 RTP % & Variance
The RTP on Manhattan Goes Wild is a measly 95.98%. Alright. It is pretty much in line with a lot of pokies that are being released nowadays, but you are going to need to be lucky to breakeven on this game. It is a high variance slot, which means that you may be waiting for a while for the actual cash to roll in. This is a game where you are certainly going to be in for the long haul.
Playing Strategies
Since Manhattan Goes Wild is a high variance slot, you need to be planning to be spending a lot of spins on this game to stand a chance of breaking even, let alone making a profit. Of course, it is worth staying for the long haul, because the maximum win is 2000x your bet.
We recommend that if you are planning to play Manhattan Goes Wild, you try to keep your bets as low as possible. Close to the 10 cents mark as opposed to the $10 mark. Make that bankroll stretch, and you could be rolling in the cash before you know it.
Pokies Review Summary: Do We Recommend This Game?
Manhattan Goes Wild is an awesome looking pokie which boasts some great features and a great design. If you get lucky, then you could win a whopping amount of cash on it too, which certainly isn't too shabby, right? Check it out at one of the recommended online casinos below or these new casino sites too!