Pixies vs Pirates Pokies Review
Yes. Pixies vs Pirates pokies may have a logo that looks suspiciously like the logo for the 'Pirates of the Caribbean' film but, we promise, it has nothing to do with that. In this Pixies vs Pirates pokies review, we will look at this awesome game from NoLimit City.
How to Play Pixies vs Pirates Pokies
The Pixies vs Pirates pokie is probably one of the more 'unique' story games we have seen. For some reason, pixies and pirates are at war and…well, that is about it. Not sure where this idea came from. It is pretty crazy, though.
As with most of the pokies from NoLimit City, this game has been designed to be 'easy to play'. This means that, more often than not, you are going to be just hitting the spin button. Two of the major features in the game are random features.
That being said, there is a bit of interaction at play if you are lucky to choose the free spins mode. Granted, this interaction doesn't go much beyond 'choose your side', but it is a great deal more interaction than some of the other games provided by the huge pokies providers out there, so we love this game for that.
Game Features
There are quite a few different features included in this pokie, which is probably one of the reasons as to why Pixies vs Pirates is one of our favourite games at the moment. Sure, the features are not that 'thematic' (well, they are, but not to the extent of other games), but they sure are a real riot for those who want something a bit fun.
The feature that you will encounter the most is the multiplier nudging wild. This is a feature which we have barely seen appear in many pokies. If you get a wild, it will nudge up to cover the whole reel. For each position it nudges up, you will have 1x added to the multiplier (the maximum is 6). If you then score a win with that wild, the multiplier will be attached to that win.
A mystery symbol may also appear randomly on the reels. It can be up to four symbols, and it can expand. It will never be a scatter or wild, though.
In addition to this, you have a free spins mode. This is triggered by scoring yourself 3 scatters. Pixies and Pirates will duke it out here (you get to choose a side), and there are plenty of wins to be thrown in your direction from this. In fact, this feature moves the game from 700-ish ways to win all the way to over 11,000. This means you will be walking away with a sizeable sum of cash.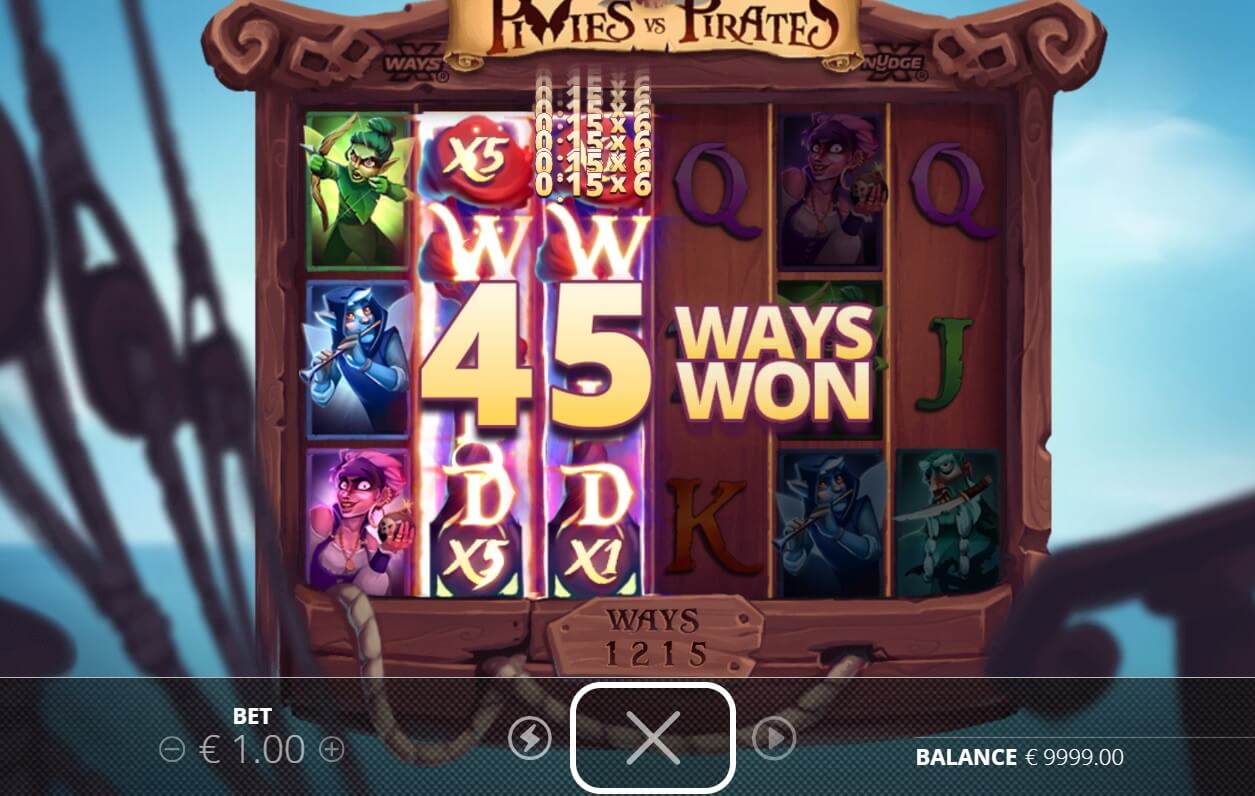 RTP % & Variance
Pixies vs Pirates has an RTP of 95.91%. This is about standard for this type of game. While we would have loved it to be a little bit higher (what gambler wouldn't love an RTP on a pokie to be higher?), this rate is fine.  In terms of variance, Pixies vs Pirates is bordering on the medium to high volatility range. It doesn't pay out that often but, when it does, the payouts tend to be very high. It is certainly a great game for those who are in it for the 'long haul'.
Playing Strategies
Because the volatility of Pixies vs Pirates is bordering on 'very high', you absolutely do not want to be going in with the high bets here (unless your bankroll can support it). With this pokie, we have found that slow and steady very much wins the race. The only way you are going to be breaking even is by keeping your bets small and then hoping for the best. You won't always turn a profit, but there is a good chance that you will be able to break even. If you are looking for some of the best places to play Pixies vs Pirates in Australia, then check out one of the links below. These are all online casinos that we have personally vetted, so we know that they are going to be fantastic places for you to head.
Looking to play Pixies vs Pirates?
If you want to play this awesome pokie, then check out some of the great casino sites below. All of these have been vetted by us, so you can spend less time wondering whether the online casino is going to be right for you, and more time playing this awesome game.